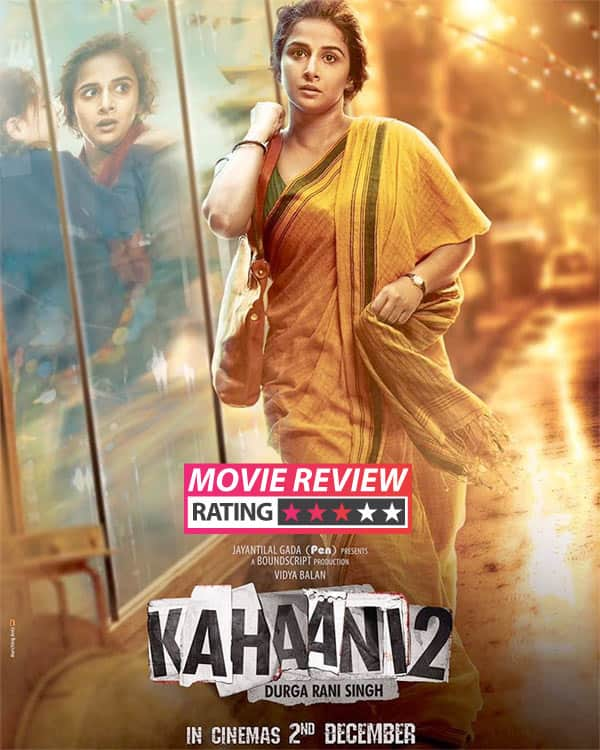 Vidya Balan's Kahaani, when released in 2012 was a success at the box office. As the time passed, the film gathered a cult following. And with that, a sequel was inevitable. Kahaani 2 – Durga Rani Singh has nothing in connection to the first part except for Vidya. In addition to the actress, the film also stars Arjun Rampal and is written and directed by Sujoy Ghosh.
What's it about
The film tells the story of a mother Vidya Sinha who's living a middle class life with her paralysed daughter Mini Sinha. Her only goal in life is to take her daughter to US for treatment and give her a content life. Hell breaks loose, when her daughter is kidnapped and before Vidya could do anything, she herself meets with an accident. Sub-inspector Inderjeet Singh is called to investigate the case and in a twist of turns, recognises her as Durga Rani Singh. Durga Rani Singh is a wanted criminal for kidnapping and murder. During the investigation Inder finds Vidya's personal diary and from there on many revelations are made about Vidya Sinha, Durga Rani Singh, Mini Sinha and even sub-inspector Inderjeet Singh.
What's hot
The film's first half in specific, is one of the best in recent times, as far as thrill factor is concerned. It keeps you on the edge of your seat. Kahaani 2 doesn't waste much time and sets the tone of the movie from the first scene itself. The setting of the film too, helps in making it a dark, eerie thriller. Unlike the first one, which was completely based in the city of joy, Kolkata, this one is based out of a small town of Chandannagar and travels to and fro to the beautiful locales of a hill station called Kalimpong, with just a small part of it based in Kolkata. Full marks to cinematographer for giving it the dark mood, it required and that could've only be possible with virgin locales it tactfully uses. As they say, people fear what they don't understand, and in this case it's the unexplored locations. Director Sujoy Ghosh creates a world similar to the one we saw in underwhelming Te3n, a few months ago. Vidya Balan is as usual top notch in her portrayal of a vulnerable as well as destructive mother. Watch out for the pre-climax scene in an abandoned house. That particular scene has a spine chilling performance by Balan. She will freak you out. Arjun Rampal's nuanced and natural portrayal of a cop will stay with you even after the movie ends. A sub-inspector who, infamously, blew up a chance of promotion because he went with his "gut feeling" and that backfired. Sujoy Ghosh very smartly uses it as a running joke throughout the movie. So much so that even his wife teases him about the same. This is Arjun Rampal's best performance. Period. Special mention to Kharaj Mukherjee who plays senior inspector Pranab Haldar. He is sure to chuckle you up at various junctures, where you least expect. An edgy thriller like this has no room for music and there is only one song in the first half but it goes with the narrative, so no one's complaining. The dialogues are easy on ears and are mostly the everyday lingo, that helps you connect with the characters instantly. One particular dialogue, "Jab tak main zinda hoon na, tujhe kuch nahi hone doongi", gets eerier every time Vidya Balan delivers it in her caring yet peculiar voice. Lastly and most importantly, a round of applause for Sujoy Ghosh for the way he tackled with the issue of child abuse. Child abuse is dealt with so much maturity in the film that it educates you and makes you uncomfortable, at the same time.
What's not
Just when you are left on a high note with its first half, the second half stumbles along the way. The film's promotion was solely on the mystery behind the identity of Vidya Balan's character. But that is revealed in the first half itself. In fact second half is more of cat and mouse game between Vidya Balan and Arjun Rampal. If Kahaani's climax left you shell-shocked and you expect something similar from this one, you are in for a huge disappointment. By the time you are done with the first half, chances are you'll know, how the film's gonna end. The only reason you sit through the second half is due to the brilliant performances by its cast and the taut direction by Sujoy Ghosh. Also, the motive of kidnapping is plain bland. It doesn't add up at all. And trying to create a Bob Biswas wannabe fails big time (You'll understand once you watch the film). The film somehow reminded me of Ben Affleck's Gone Baby Gone and Sujoy Ghosh's own production Te3n. The background score is underwhelming.
What to do
Go for Vidya Balan and Arjun Rampal's performances. And it's taut narrative by Sujoy Ghosh. This will surely keep you hooked. I am going with 3 stars.
Rating:
out of 5